Manapouri Power Station Machine Hall
Enter your search query in the box below.
Photo Gallery Categories
Home > NZ Photographs > Manapouri Power Station > Machine Hall
View of Manapouri Powerstation machine hall in February, 2005.
You can see the rock sides of the hall between the crane support columns to the left and right. Behind each set of doors on the left are the unit transformers that increase the voltage from 13.2kV to 220kV. Cable shafts extend from the transformers to the switching yard at the surface.
In this photo you can see engineers have removed generation-unit number 4 for refurbishment. You can see the hole about halfway down the hall with a temporary safety-fence around it. Various parts of the unit are spread around the hall while the work is being undertaken. You can see the blue excitation unit in the right-hand foreground. The rotor is the brown object mounted on a steel shaft in the distance on the right. The stator is the large white object in the far distance on the left. A new turbine has already been installed. Currently, engineers are installing the windings on the unit 4 stator and rotor. The cardboard boxes in the foreground contain the thousands of new steel laminate sheets used to reconstruct the stator and rotor.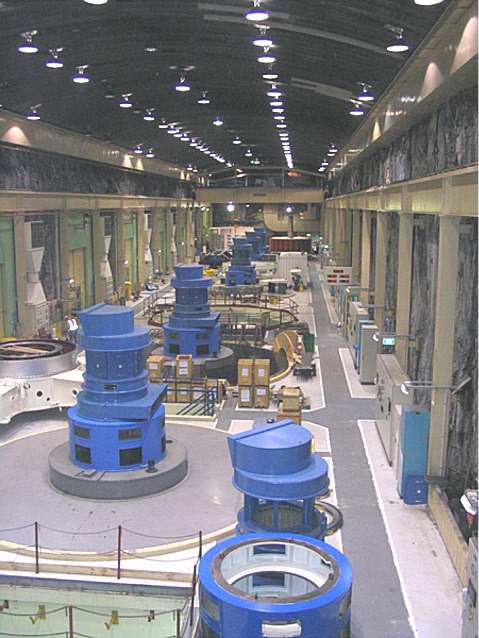 From Wikipedia, the free encyclopedia