Beehive Parliament Buildings Wellington
Enter your search query in the box below.
Photo Gallery Categories
Home > NZ Photographs > Wellington > Beehive Parliament Buildings
This photo shows the executive wing of the New Zealand Parliament Buildings that are known as the Beehive.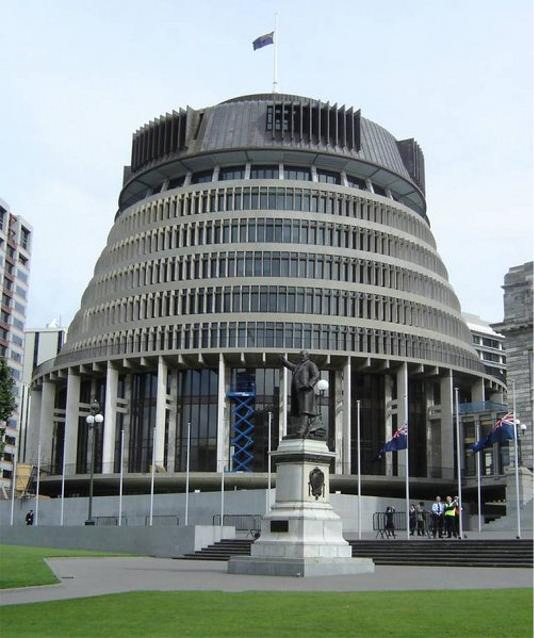 Beehive (building)
From Wikipedia, the free encyclopedia
The Beehive is the common name for the Executive Wing of the New Zealand Parliament Buildings, located at the corner of Molesworth Street and Lambton Quay, Wellington. Designed by British architect Sir Basil Spence in 1964, the building was completed in 1981.
The building is ten storeys (72 m) high. The top floor is occupied by the Cabinet offices, with the Prime Minister's offices on the floor immediately below. Other floors contain the offices of individual cabinet ministers.
Other facilities within the building include function rooms such as a television studio, press theatre, and a banqueting hall, as well as service rooms, among which are the parliamentary catering facilities of Bellamy's. The building also houses, in its basement, the country's main civil defence headquarters.
The Beehive's circular footprint is an elegant and attractive design feature. However it is also quite impractical, as many of its rooms are wedge-shaped or asymmetrical, with desks and other office furniture at awkward angles.
The Beehive's brown roof is constructed from 20 tonnes of hand-welded copper. It has developed a naturally weathered appearance.
During the 1990s, there was a proposal to physically move the Beehive so as to allow for the extension of the Parliament Buildings. The plan was never carried out.
A tunnel leads from the building under Bowen Street, linking the Beehive with parliamentary offices in Bowen House.
The Beehive is extensively decorated with New Zealand art, notably a large stained glass window in the foyer that commemorates the country's 150th anniversary in 1990.