A Street Map of Wellington New Zealand
Enter your search query in the box below.
Home > New Zealand Maps > Wellington Street Map
Wellington
Wellington is the capital city of New Zealand, located at the southern tip of the North Island. It is the second-most populous urban area in the country, after Auckland. Known for its stunning natural beauty, vibrant arts and cultural scene, and lively atmosphere, Wellington is often regarded as the country's cultural and political hub.
Geographically, Wellington is situated on the southwestern coast of the North Island, surrounded by hills and a picturesque harbour. The city's waterfront area is a popular spot for locals and visitors alike, offering stunning views, recreational activities, and a vibrant dining and entertainment scene.
One of the prominent features of Wellington is its compact size. Despite being a capital city, it has a relatively small population compared to other major cities around the world, which contributes to its friendly and welcoming atmosphere. The city's compact nature makes it easy to explore on foot, and many of its popular attractions, such as Te Papa Tongarewa (the national museum of New Zealand), the Wellington Cable Car, and the historic Cuba Street, are within walking distance of each other.
Wellington has a strong creative and cultural scene, earning its reputation as the "Coolest Little Capital in the World." The city hosts numerous festivals throughout the year, including the New Zealand Festival and the Wellington Jazz Festival, which showcase a wide range of artistic performances, exhibitions, and cultural events. It is also home to a thriving film industry including the WETA Workshop and sound stages responsible for several major movies, including the renowned "The Lord of the Rings" trilogy.
In addition to its cultural offerings, Wellington is also a significant centre for government and business. The New Zealand Parliament is located in the city, along with many government agencies and foreign embassies. The city has a strong economy, driven by sectors such as technology, film production, creative industries, tourism, and education.
Nature and outdoor enthusiasts will find plenty to enjoy in Wellington. The surrounding region offers diverse landscapes, including beautiful beaches, rugged coastlines, and forested hills. The Zealandia wildlife sanctuary, located just outside the city, is a unique ecological restoration project that aims to protect and reintroduce native New Zealand species.
Wellington is also renowned for its culinary scene, with a wide range of restaurants, cafes, and bars offering delicious food and beverages. The city takes pride in its coffee culture, and you'll find numerous speciality coffee shops to satisfy your caffeine cravings.
Overall, Wellington combines natural beauty, cultural richness, and a vibrant atmosphere, making it a captivating destination for visitors and a beloved home for its residents.
---
Welcome to our Wellington New Zealand street / road map page. The street map of Wellington New Zealand that is located below is provided by Google Maps. You can "grab" the Wellington New Zealand street map and move it around to re-center the map. You can change between standard map view and satellite map view by clicking the small square on the bottom left-hand corner of the map. Satellite map view utilises orbiting satellite and / or aerial high-resolution photography to display images of the map location to street level detail (really quite amazing). Standard map view shows a traditional street map (also known as a road map). You can use the zoom buttons on the bottom right-hand side of the map to zoom in or out to street level detail. We have digital online maps for most towns and cities on the New Zealand Maps page. We also have a good collection of old school printable maps on the New Zealand Maps page.
Hello. I hope you like the Wellington, New Zealand street map / road map situated above.
If you like our website, please consider adding a link to the site. These links help to build website traffic and they are considered a vote of confidence for a site.
New Zealand Map
Click the New Zealand map below to go to a large version of the map.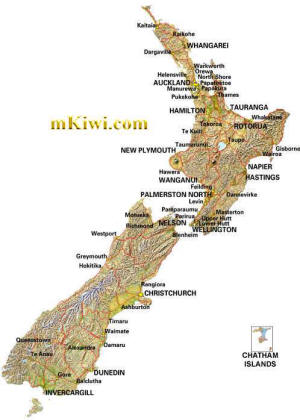 Carterton | Featherston | Gladstone | Greytown | Mana | Martinborough | Masterton
Paremata | Riversdale
Wellington > Kapiti Coast
Otaihanga | Otaki | Otaki Beach | Paekakariki | Paraparaumu | Paraparaumu Beach | Peka Peka
Raumati Beach | Raumati South | Te Horo | Waikanae | Waikanae Beach
Wellington > Lower Hutt
Alicetown | Avalon | Belmont | Boulcott | Days Bay | Eastbourne | Epuni | Fairfield | Gracefield
Harbour View | Holborn | Kelson | Korokoro | Lower Hutt | Manor Park | Maungaraki | Moera
Muritai | Naenae | Normandale | Petone | Rona Bay | Stokes Valley | Taita | Tirohanga
Wainuiomata | Waiwhetu | Waterloo | Woburn
Wellington > Porirua City
Ascot Park | Camborne | Cannons Creek | Elsdon | Karehana Bay | Linden | Mana
Papakowhai | Paremata | Pauatahanui | Plimmerton | Porirua | Porirua East | Pukerua Bay
Ranui Heights | Takapuwahia | Titahi Bay | Waitangirua | Whitby
Wellington > Upper Hutt
Akatarawa | Birchville | Brown Owl | Clouston Park | Elderslea | Heretaunga | Mangaroa
Maoribank | Pinehaven | Riverstone Terraces | Silverstream | Te Marua | The Plateau
Timberlea | Totara Park | Trentham | Upper Hutt | Wallaceville | Whitemans Valley
Wellington > Wellington City
Aro Valley | Berhampore | Breaker Bay | Broadmeadows | Brooklyn | Chartwell | Churton Park
Crofton Downs | Evans Bay | Glenside | Grenada | Hataitai | Highbury | Horokiwi
Houghton Bay | Island Bay | Johnsonville | Kaiwharawhara | Karaka Bay | Karori | Kelburn
Khandallah | Kilbirnie | Kingston | Kowhai Park | Lambton | Lyall Bay | Makara
Maupuia | Melrose | Miramar | Moa Point | Mornington | Mount Cook | Mount Victoria | Newlands
Newtown | Ngaio | Ngauranga | Northland | Ohariu | Oriental Bay | Owhiro Bay | Paparangi
Raroa | Redwood | Roseneath | Seatoun | Seatoun Heights | Strathmore Park
Tawa | Te Aro | Thorndon | Vogeltown | Wadestown | Wellington Central | Wilton