Maps of West Yorkshire England
Enter your search query in the box below.
Home > Maps of England > West Yorkshire Maps
Welcome to our West Yorkshire map page. The map of West Yorkshire England that is located below is provided by Google Maps. You can "grab" the electronic map and move it around to re-center the map. You can change between standard map view and satellite map view by clicking the small square on the bottom left-hand corner of the map. Satellite map view utilises orbiting satellite and / or aerial high-resolution photography to display images of the map location to street level detail (really quite amazing). Standard map view shows a traditional street map (also known as a road map). You can use the zoom buttons on the bottom right-hand side of the map to zoom in or out to street level detail. We have digital online maps for most towns and cities on the Maps of England page. We also have a good collection of old school printable maps on the Maps of England page.
A map of West Yorkshire, England
West Yorkshire Maps
I hope you like the West Yorkshire County, England street map / road map situated above.
If you like our website, please consider adding a link to the site. These links help to build website traffic and they are considered a vote of confidence for a site.
I travelled extensively for 10 to 15 years trading campervans and motorhomes. I travelled in busses, ferries, planes, trains or taxis when picking up vehicles and after delivering them to customers. Mapping was very important to me. I often relied upon my smartphone, tablet or dedicated GPS navigation device to provide real-time point to point GPS routing. I drove many long hours in all sorts of weather conditions. I slept in the trade vehicles while transporting them from one location to the next. I saw the wonderful countryside as many others would never see it. I visited cities and towns and I stopped at many wonderful tourist attractions. I ate meals in eateries and I explored the land.
West Yorkshire
West Yorkshire is a metropolitan and ceremonial county in England. It is an inland and, in relative terms, upland county having eastward-draining valleys while taking in the moors of the Pennines. West Yorkshire came into existence as a metropolitan county in 1974 after the passage of the Local Government Act 1972 and has a population of 2.3 million.
West Yorkshire consists of five metropolitan boroughs (City of Bradford, Calderdale, Kirklees, City of Leeds and City of Wakefield) and is bordered by the counties of Derbyshire to the south, Greater Manchester to the south-west, Lancashire to the west and north-west, North Yorkshire to the north and east, and South Yorkshire to the south and south-east.
Remnants of strong coal, wool and iron ore industries remain in the county, having attracted people over the centuries, and this can be seen in the buildings and architecture. Major railways and two major motorways traverse the county, which also contains Leeds Bradford International Airport.
West Yorkshire County Council was abolished in 1986, so its five districts became effectively unitary authorities. However, the metropolitan county, which covers an area of 2,029 square kilometres (783 sq mi), continues to exist in law, and as a geographic frame of reference. Since 1 April 2014 West Yorkshire has been a combined authority area, with the local authorities pooling together some functions over transport and regeneration as the West Yorkshire Combined Authority. In March 2020, it was confirmed by the government that West Yorkshire could have its first elected Mayor, provided all five local authorities (Bradford, Calderdale, Kirklees, Leeds, and Wakefield approved the deal. If successful, the first vote would be the 2021 West Yorkshire mayoral election, scheduled to take place on 6 May 2021.
West Yorkshire includes the West Yorkshire Built-up Area, which is the fourth largest in the United Kingdom and the largest within the historic county boundaries of Yorkshire.
History
West Yorkshire was formed as a metropolitan county in 1974, by the Local Government Act 1972, and corresponds roughly to the core of the historic West Riding of Yorkshire and the county boroughs of Bradford, Dewsbury, Halifax, Huddersfield, Leeds, and Wakefield.
West Yorkshire Metropolitan County Council inherited the use of West Riding County Hall at Wakefield, opened in 1898, from the West Riding County Council in 1974. Since 1987 it has been the headquarters of Wakefield City Council.
The county initially had a two-tier structure of local government with a strategic-level county council and five districts providing most services. In 1986, throughout England the metropolitan county councils were abolished. The functions of the county council were devolved to the boroughs; joint-boards covering fire, police and public transport; and to other special joint arrangements. Organisations such as the West Yorkshire Police (governed by the West Yorkshire Police and Crime Commissioner) continue to operate on this basis.
Although the county council was abolished, West Yorkshire continues to form a metropolitan and ceremonial county with a Lord Lieutenant of West Yorkshire and a High Sheriff.
Wakefield's Parish Church was raised to cathedral status in 1888 and after the elevation of Wakefield to diocese, Wakefield Council immediately sought city status and this was granted in July 1888. However the industrial revolution, which changed West and South Yorkshire significantly, led to the growth of Leeds and Bradford, which became the area's two largest cities (Leeds being the largest in Yorkshire). Leeds was granted city status in 1893 and Bradford in 1897. The name of Leeds Town Hall reflects the fact that at its opening in 1858 Leeds was not yet a city, while Bradford renamed its Town Hall as City Hall in 1965.
From Wikipedia, the free encyclopedia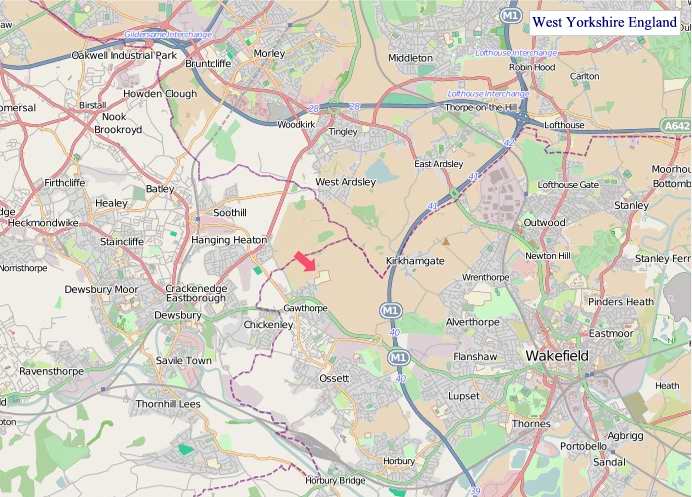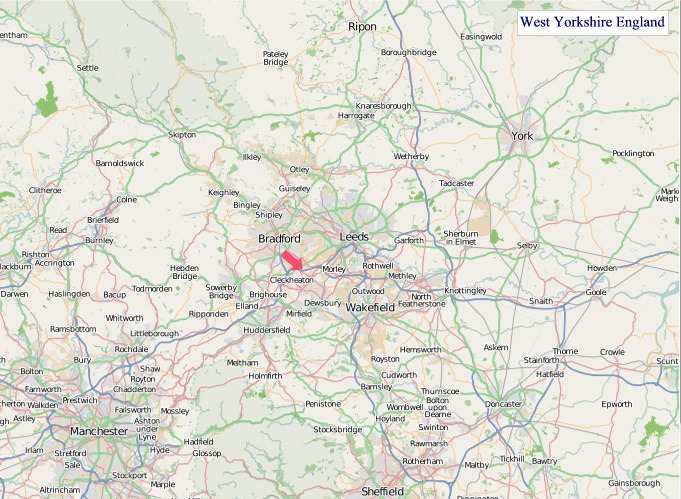 "© OpenStreetMap contributors, CC BY-SA".
Districts of West Yorkshire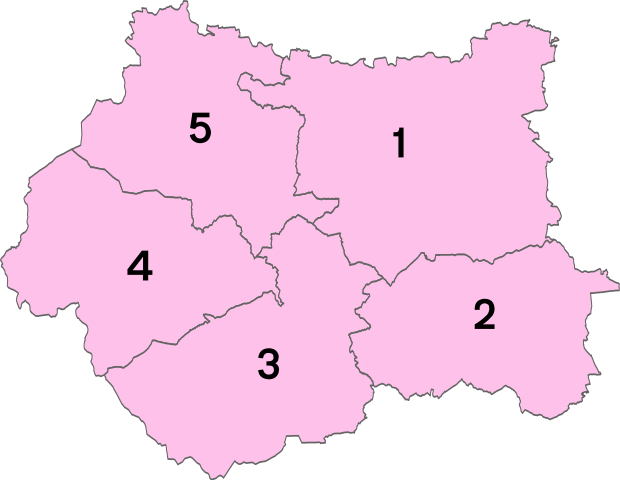 1 - City of Leeds
2 - City of Wakefield
3 - Kirklees
4 - Calderdale
5 - City of Bradford