Maps of Surrey England
Enter your search query in the box below.
Home > Maps of England > Surrey Maps
Welcome to our Surrey map page. The map of Surrey England that is located below is provided by Google Maps. You can "grab" the electronic map and move it around to re-center the map. You can change between standard map view and satellite map view by clicking the small square on the bottom left-hand corner of the map. Satellite map view utilises orbiting satellite and / or aerial high-resolution photography to display images of the map location to street level detail (really quite amazing). Standard map view shows a traditional street map (also known as a road map). You can use the zoom buttons on the bottom right-hand side of the map to zoom in or out to street level detail. We have digital online maps for most towns and cities on the Maps of England page. We also have a good collection of old school printable maps on the Maps of England page.
A map of Surrey, England
Surrey Maps
I hope you like the Surrey County, England street map / road map situated above.
If you like our website, please consider adding a link to the site. These links help to build website traffic and they are considered a vote of confidence for a site.
I travelled extensively for 10 to 15 years trading campervans and motorhomes. I travelled in busses, ferries, planes, trains or taxis when picking up vehicles and after delivering them to customers. Mapping was very important to me. I often relied upon my smartphone, tablet or dedicated GPS navigation device to provide real-time point to point GPS routing. I drove many long hours in all sorts of weather conditions. I slept in the trade vehicles while transporting them from one location to the next. I saw the wonderful countryside as many others would never see it. I visited cities and towns and I stopped at many wonderful tourist attractions. I ate meals in eateries and I explored the land.
Surrey
Surrey is a county in South East England which borders Kent to the east, East Sussex to the southeast, West Sussex to the south, Hampshire to the west, Berkshire to the northwest, and Greater London to the northeast. With about 1.2 million people, Surrey is the 12th-most populous English county, the third-most populous home county, after Kent and Essex, and the third-most populous in the Southeast, after Hampshire and Kent.
Surrey is a relatively affluent county. It has the highest proportion of woodland of counties in England. It has four horse racing courses, and golf courses including the international competition venue at Wentworth.
Guildford is popularly regarded as the county town, although Surrey County Council is based extraterritorially at Kingston upon Thames. Surrey is divided into eleven districts.
History
Ancient British and Roman periods
Before Roman times the area today known as Surrey was probably largely occupied by the Atrebates tribe, centred at Calleva Atrebatum (Silchester), in the modern county of Hampshire, but eastern parts of it may have been held by the Cantiaci, based largely in Kent. The Atrebates are known to have controlled the southern bank of the Thames from Roman texts describing the tribal relations between them and the powerful Catuvellauni on the north bank.
In about AD 42 King Cunobelinus (in Welsh legend Cynfelin ap Tegfan) of the Catuvellauni died and war broke out between his sons and King Verica of the Atrebates. The Atrebates were defeated, their capital captured and their lands made subject to Togodumnus, king of the Catuvellauni, ruling from Camulodunum (Colchester). Verica fled to Gaul and appealed for Roman aid. The Atrebates were allied with Rome during the invasion of Britain in AD 43.
During the Roman era, the only important settlement within the historic area of Surrey was the London suburb of Southwark (now part of Greater London), but there were small towns at Staines, Ewell, Dorking, Croydon and Kingston upon Thames. Remains of Roman rural temples have been excavated on Farley Heath and near Wanborough and Titsey, and possible temple sites at Chiddingfold, Betchworth and Godstone. The area was traversed by Stane Street and other Roman roads.
Formation of Surrey
During the 5th and 6th centuries Surrey was conquered and settled by Saxons. The names of possible tribes inhabiting the area have been conjectured on the basis of place names. These include the Godhelmingas (around Godalming) and Woccingas (between Woking and Wokingham in Berkshire). It has also been speculated that the entries for the Nox gaga and Oht gaga peoples in the Tribal Hidage may refer to two groups living in the vicinity of Surrey. Together their lands were assessed at a total of 7,000 hides, equal to the assessment for Sussex or Essex.
Surrey may have formed part of a larger Middle Saxon kingdom or confederacy, also including areas north of the Thames. The name Surrey is derived from Sūþrīge (or Suthrige), meaning "southern region", and this may originate in its status as the southern portion of the Middle Saxon territory.
If it ever existed, the Middle Saxon kingdom had disappeared by the 7th century, and Surrey became a frontier area disputed between the kingdoms of Kent, Essex, Sussex, Wessex and Mercia, until its permanent absorption by Wessex in 825. Despite this fluctuating situation it retained its identity as an enduring territorial unit. During the 7th century Surrey became Christian and initially formed part of the East Saxon diocese of London, indicating that it was under East Saxon rule at that time, but was later transferred to the West Saxon diocese of Winchester. Its most important religious institution throughout the Anglo-Saxon period and beyond was Chertsey Abbey, founded in 666.
At this point Surrey was evidently under Kentish domination, as the abbey was founded under the patronage of King Ecgberht of Kent. However, a few years later at least part of it was subject to Mercia, since in 673-675 further lands were given to Chertsey Abbey by Frithuwald, a local sub-king (subregulus) ruling under the sovereignty of Wulfhere of Mercia. A decade later Surrey passed into the hands of King Caedwalla of Wessex, who also conquered Kent and Sussex, and founded a monastery at Farnham in 686.
The region remained under the control of Caedwalla's successor Ine in the early 8th century. Its political history for most of the 8th century is unclear, although West Saxon control may have broken down around 722, but by 784-785 it had passed into the hands of King Offa of Mercia. Mercian rule continued until 825, when following his victory over the Mercians at the Battle of Ellandun, King Egbert of Wessex seized control of Surrey, along with Sussex, Kent and Essex. It was incorporated into Wessex as a shire and continued thereafter under the rule of the West Saxon kings, who eventually became kings of all of England.
From Wikipedia, the free encyclopedia
Surrey Maps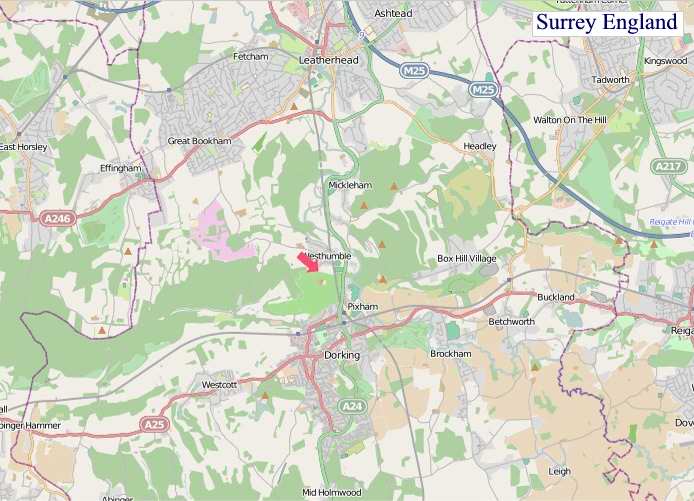 "© OpenStreetMap contributors, CC BY-SA".
Districts of Surrey
1 - Spelthorne
2 - Runnymede
3 - Surrey Heath
4 - Woking
5 - Elmbridge
6 - Guildford
7 - Waverley
8 - Mole Valley
9 - Epsom and Ewell
10 - Reigate and Banstead
11 - Tandridge