Maps of Herefordshire England
Enter your search query in the box below.
Home > Maps of England > Herefordshire Maps
Welcome to our Herefordshire map page. The map of Herefordshire England that is located below is provided by Google Maps. You can "grab" the electronic map and move it around to re-center the map. You can change between standard map view and satellite map view by clicking the small square on the bottom left-hand corner of the map. Satellite map view utilises orbiting satellite and / or aerial high-resolution photography to display images of the map location to street level detail (really quite amazing). Standard map view shows a traditional street map (also known as a road map). You can use the zoom buttons on the bottom right-hand side of the map to zoom in or out to street level detail. We have digital online maps for most towns and cities on the Maps of England page. We also have a good collection of old school printable maps on the Maps of England page.
A map of Herefordshire, England
Herefordshire Maps
I hope you like the Herefordshire County, England street map / road map situated above.
If you like our website, please consider adding a link to the site. These links help to build website traffic and they are considered a vote of confidence for a site.
I travelled extensively for 10 to 15 years trading campervans and motorhomes. I travelled in busses, ferries, planes, trains or taxis when picking up vehicles and after delivering them to customers. Mapping was very important to me. I often relied upon my smartphone, tablet or dedicated GPS navigation device to provide real-time point to point GPS routing. I drove many long hours in all sorts of weather conditions. I slept in the trade vehicles while transporting them from one location to the next. I saw the wonderful countryside as many others would never see it. I visited cities and towns and I stopped at many wonderful tourist attractions. I ate meals in eateries and I explored the land.
Herefordshire
Herefordshire is a county in the West Midlands of England, governed by Herefordshire Council. It is bordered by Shropshire to the north, Worcestershire to the east, Gloucestershire to the south-east, and the Welsh counties of Monmouthshire and Powys to the west.
Hereford is a cathedral city and is the county town; with a population of approximately 55,800 inhabitants it is also the largest settlement. Situated in the historic Welsh Marches, Herefordshire is one of the most rural and sparsely populated counties in England, with a population density of 82/km2 (212/sq mi), and a 2017 population of 191,000 - the fourth-smallest of any ceremonial county in England. The land use is mostly agricultural and the county is well known for its fruit and cider production, and for the Hereford cattle breed.
Constitution
From 1974 to 1998, Herefordshire was part of the former non-metropolitan county of Hereford and Worcester.
Herefordshire was reconstituted both as a new district (effective 19 July 1996) and as a new county (coextensive with the area of the aforementioned district) (effective 1 April 1998) by Statutory Instrument as defined in The Hereford and Worcester (Structural, Boundary and Electoral Changes) Order 1996. This Order established Herefordshire as a unitary authority on 1 April 1998, combining county and district functions into a single council. Herefordshire is also commonly called a unitary district, but this is not official nomenclature. Herefordshire is officially known as a unitary authority for local government purposes. It is governed by Herefordshire Council which was created in 1998 with the new unitary district that absorbed the previous administrative areas of Leominster District Council, South Herefordshire District Council, Hereford City Council, parts of Hereford-Worcester County Council, and parts of Malvern Hills District Council.
The Lieutenancies Act 1997 made Herefordshire a ceremonial county, covering the exact area of the unitary district. For Eurostat purposes it is a NUTS 3 region (code UKG11) and is one of three counties that comprise the "Herefordshire, Worcestershire and Warwickshire" NUTS 2 region.
Physical geography
The River Wye, which at 135 miles (217 km) is the fifth-longest in the United Kingdom, enters the county after briefly being its border with Powys. It flows through both Hereford and Ross-on-Wye before returning to Wales. Leominster is situated on the River Lugg, a tributary of the Wye.
There are two Areas of Outstanding Natural Beauty in the county. The Wye Valley is located in the river's valleys south of Hereford, while the Malvern Hills are in the east of the county, along its border with Worcestershire.
History
Herefordshire is one of the 39 Historic counties of England. Herefordshire County Council was created in 1889.
In 1974 the administrative county formed in 1889 was merged with that of neighbouring Worcestershire to form Hereford and Worcester. Within this, Herefordshire was covered by the local government districts of South Herefordshire, Hereford, and part of Malvern Hills and Leominster districts. However, the county was dissolved in 1998, resulting in the return of Herefordshire and Worcestershire as counties.
The current ceremonial county and unitary district have broadly the same borders as the historic county.
From Wikipedia, the free encyclopedia
"© OpenStreetMap contributors, CC BY-SA".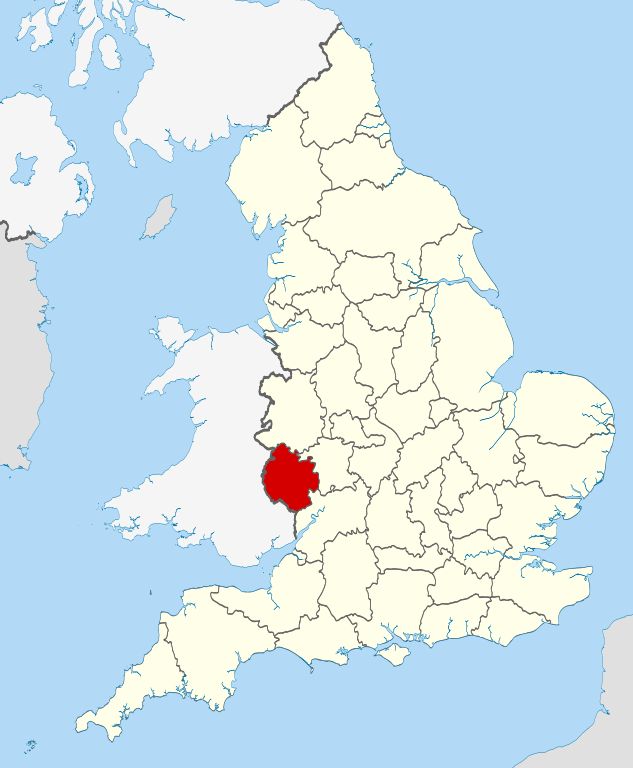 This file is licensed under the Creative Commons Attribution-Share Alike 3.0 Unported license.