A Street Map of Auckland New Zealand
Enter your search query in the box below.
Home > New Zealand Maps > Auckland Street Map
Auckland
Auckland is the largest city in New Zealand, located on the North Island. It serves as the country's economic and cultural hub and is known for its stunning natural beauty, diverse population, and vibrant city life. Here are some key points about Auckland:
Geography: Auckland is situated on an isthmus between two harbours, the Waitematā Harbour to the east and the Manukau Harbour to the west. It boasts a rugged coastline, numerous volcanic cones, and lush green landscapes. The city's unique geography provides a wide range of outdoor recreational opportunities.
Population: Auckland is home to a diverse population of approximately 1.63 million people, making it the most populous city in New Zealand. The city's residents come from various ethnic backgrounds, with a significant Maori, Pacific Islander, Asian, and European presence.
Climate: Auckland experiences a mild, maritime climate with warm summers and mild winters. The city receives ample rainfall throughout the year, which contributes to its lush vegetation and picturesque landscapes.
Economy: Auckland is the economic powerhouse of New Zealand. It is home to numerous industries, including finance, IT, media, creative arts, tourism, and international education. The city's bustling central business district features a skyline dominated by high-rise buildings and is a hub for corporate headquarters, financial institutions, and commercial activities.
Education: Auckland is a renowned educational centre with several prestigious universities and educational institutions. The University of Auckland, AUT University, and Massey University are among the prominent institutions that attract students from around the world.
Culture and Entertainment: Auckland offers a vibrant arts and cultural scene. It hosts a range of festivals, exhibitions, theatre productions, and music events throughout the year. The Auckland War Memorial Museum, Auckland Art Gallery Toi o Tāmaki, and the New Zealand Maritime Museum are popular cultural attractions.
Tourism: Auckland's natural beauty is a major draw for tourists. Visitors can explore picturesque islands in the Hauraki Gulf, such as Waiheke Island and Rangitoto Island, which offer stunning beaches, vineyards, and outdoor activities. The city is also a gateway to other popular tourist destinations in New Zealand, including the Waitomo Caves and the Bay of Islands.
Sports: Auckland has a strong sports culture and hosts various international sporting events. It is particularly known for its sailing, with the city having hosted the America's Cup multiple times. Rugby and cricket are also popular sports in Auckland, with several stadiums and venues hosting matches and tournaments.
In summary, Auckland is a cosmopolitan city that combines natural beauty, a diverse population, a thriving economy, and a rich cultural scene. It offers a unique blend of urban amenities, outdoor adventures, and opportunities for exploration, making it a popular destination for residents and visitors alike.
---
Welcome to our Auckland New Zealand street / road map page. The street map of Auckland New Zealand that is located below is provided by Google Maps. You can "grab" the Auckland New Zealand street map and move it around to re-center the map. You can change between standard map view and satellite map view by clicking the small square on the bottom left-hand corner of the map. Satellite map view utilises orbiting satellite and / or aerial high-resolution photography to display images of the map location to street level detail (really quite amazing). Standard map view shows a traditional street map (also known as a road map). You can use the zoom buttons on the bottom right-hand side of the map to zoom in or out to street level detail. We have digital online maps for most towns and cities on the New Zealand Maps page. We also have a good collection of old school printable maps on the New Zealand Maps page.
Hello. I hope you like the Queen Street, Auckland street map / road map situated above.
If you like our website, please consider adding a link to the site. These links help to build website traffic and they are considered a vote of confidence for a site.
New Zealand Map
Click the New Zealand map below to go to a large version of the map.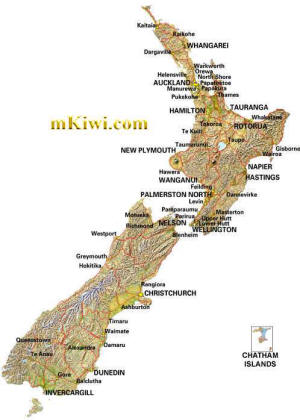 Auckland Central | Awaruku | Awhitu Peninsula | Chelsea | Lake Pupuke | Mercer | Rosebank
Royal Heights | Wairau Valley
Auckland > Auckland City
Avondale | Balmoral | Blockhouse Bay | Eden Terrace | Ellerslie | Epsom | Freemans Bay | Glen Innes
Glendowie | Grafton | Great Barrier Island | Greenlane | Grey Lynn | Herne Bay | Hillsborough
Kingsland | Kohimarama | Lynfield | Meadowbank | Mission Bay | Morningside | Mt Albert
Mt Eden | Mt Roskill | Mount Wellington | New Windsor | Newmarket | Newton | One Tree Hill
Onehunga | Orakei | Oranga | Otahuhu | Owairaka | Panmure | Parnell | Penrose | Pt Chevalier
Point England | Ponsonby | Rakino Island | Remuera | Royal Oak | St Heliers | St Johns
Saint Johns Park | Saint Marys Bay | Sandringham | Tamaki | Te Papapa | Three Kings
Wai O Taiki Bay | Waikowhai | Waterview | Wesley | Western Springs | Westmere
Auckland > Franklin
Aka Aka | Ararimu | Awhitu | Bombay | Buckland | Clarks Beach | Glenbrook | Harrisville | Hunua
Kaiaua | Karaka | Mauku | Onewhero | Patumahoe | Pokeno | Pukekawa | Pukekohe | Puni
Ramarama | Tuakau | Waiau Pa | Waiuku
Alfriston | Beachlands | Botany Downs | Brookby | Bucklands Beach | Burswood | Chapel Downs
Clendon Park | Clevedon | Clover Park | Cockle Bay | Cumbria Downs | Dannemora | East Tamaki
Eastern Beach | Farm Cove | Favona | Flat Bush | Golflands | Goodwood Heights | Half Moon Bay
Highland Park | Hill Park | Howick | Huntington Park | Kawakawa Bay | Mangere | Mangere Bridge
Manukau | Manukau Heights | Manurewa | Maraetai | Mellons Bay | Northpark | Omana Beach
Orere Point | Otara | Pakuranga | Papatoetoe | Puhinui | Randwick Park | Somerville | Sunnyhills
The Gardens | Totara Heights | Wattle Downs | Weymouth | Whitford | Wiri
Albany | Bayswater | Beach Haven | Belmont | Birkdale | Birkenhead | Browns Bay | Campbells Bay
Castor Bay | Chatswood | Cheltenham | Chester Park | Crown Hill | Devonport | Forrest Hill
Glenfield | Greenhithe | Hauraki | Hillcrest | Mairangi Bay | Marlborough | Meadowood | Milford
Murrays Bay | North Harbour | Northcote | Northcross | Okura | Paremoremo | Pinehill
Rothesay Bay | Stanley Bay | Sunnynook | Takapuna | Torbay | Unsworth Heights | Waiake
Wainoni | Westlake | Windsor Park
Ardmore | Conifer Grove | Drury | Opaheke | Pahurehure | Papakura | Red Hill | Takanini
Auckland > Rodney
Algies Bay | Arkles Bay | Army Bay | Big Manly | Coatesville | Dairy Flat | Gulf Harbour | Hatfields Beach
Helensville | Hoteo | Huapai | Kaipara Flats | Kaukapakapa | Kawau Island | Kumeu | Leigh | Little Manly
Mahurangi | Matakana | Matakatia Bay | Maygrove | Muriwai Beach | Muriwai Valley | Omaha
Omaha Flats | Orewa | Parakai | Parkhurst | Point Wells | Puhoi | Red Beach | Riverhead | Sandspit
Silverdale | Snells Beach | Stanmore Bay | Stillwater | Streamlands | Tapora | Taupaki | Tindalls Beach
Wade Heads | Waikoukou Valley | Waimauku | Wainui | Waitakere | Waitoki | Waiwera | Warkworth
Wellsford | Whangaparaoa | Woodcocks
Blackpool | Omiha | Oneroa | Onetangi | Orapiu | Ostend | Palm Beach | Surfdale
Auckland > Waitakere City
Bethells Beach | Cornwallis | French Bay | Glen Eden | Glendene | Green Bay | Harbour View
Henderson | Henderson Valley | Herald Island | Hobsonville | Huia | Karekare | Kelston | Konini
Laingholm | Massey East | Massey North | Massey West | Mclaren Park | New Lynn | Oratia | Palm Heights
Piha | Ranui | Sunnyvale | Swanson | Te Atatu | Te Atatu Peninsula | Te Atatu South | Titirangi
Waiatarua | Waima | Waimanu Bay | West Harbour | Western Heights | Whenuapai | Wood Bay
Woodlands Park